Cartes des départements de France - P.G. Chanlaire
Pierre-Gilles Chanlaire is a French geographer, born in Wassy on June 21, 1752 and died in Paris on March 8, 1817. He was attached to the topographic office of the cadastre. He is credited with several commendable works of statistics and geography:
General table of the new division of France, Paris, 1802
Topographical and statistical description of France, 1810
Atlas of France in departments (in 86 maps), 1818;
Atlas of large maps of the theater of war in the East, Egypt, Rhine and Belgium, etc.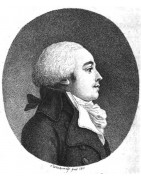 Sorry for the inconvenience.
Search again what you are looking for