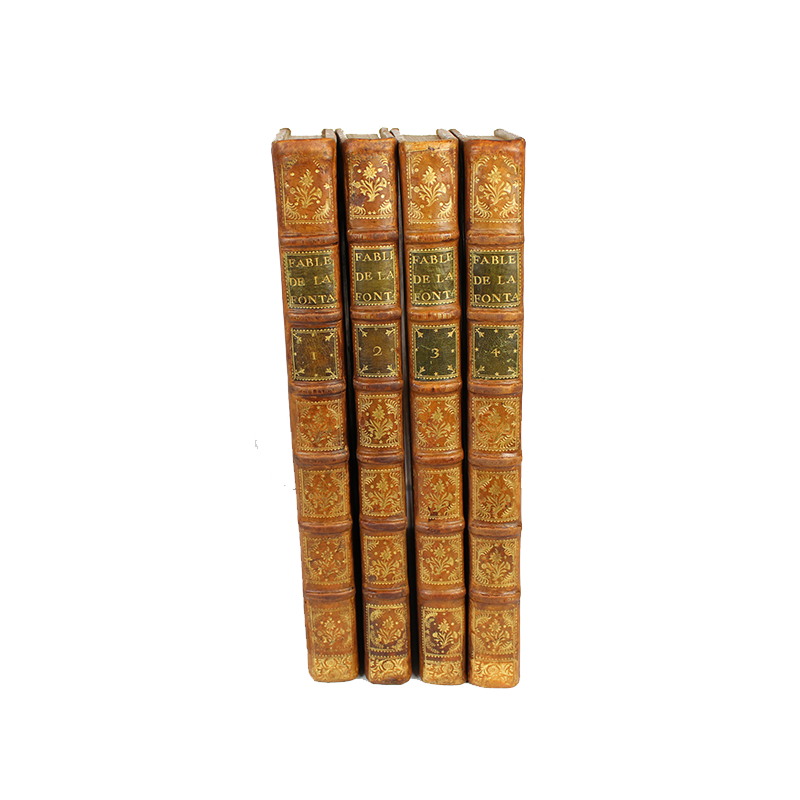  
Fables Choisies - J. de la Fontaine - 1755 -1759
Mises en vers par J. de la Fontaine
In Paris, Chez Dessaint & Saillant and Chez Durand, 1755-1759.
4 folio volumes (285 x 424 mm), blond calfskin, triple golden thread framing the dishes,
Title pieces and volume number in morocco, ornate ribbing, golden edges (contemporary binding). Restoration on hinges and caps. Rubbed dishes.
A portrait of Oudry after LARGILLIÈRE (Very rare 250 copies only),
a frontispiece by OUDRY, engraved by COCHIN, adorned with a bust of La Fontaine (bound at the end of t. IV),
and 275 figures engraved after the drawings by OUDRY, taken over by COCHIN and engraved by AUBERT, AVELINE, BAQUOY, CHEDEL, COCHIN, FESSART, GALLIMARD, LEBAS,
LEMIRE, LEMPEREUR, MOITTE, WORKER, TARDIEU ...
The plate of "Monkey and Leopard" is here in second draw.
Very nice exemplaire.
Jean de la Fontaine, born July 8, 1621 in Château-Thierry and died April 13, 1695 in Paris, is a French poet of great renown, mainly for his Fables and to a lesser extent for his tales. We also owe him various poems, plays and opera libretto which confirm his ambition as a moralist.
Close to Nicolas Fouquet, Jean de La Fontaine stayed away from the royal court but frequented salons like that of Madame de La Sablière and despite opposition, he was received at the French Academy in 1684. Mingled with the debates of the 'era, it ranks in the party of the Ancients in the famous Quarrel of the Ancients and the Moderns.
It was in fact inspired by the fabulists of Greco-Latin Antiquity and in particular by Aesop that he wrote the Fables that made his fame. The first collection which corresponds to books I to VI of the current editions is published in 1668, the second (books VII to XI) in 1678, and the last (current book XII) is dated 1694. The brilliant handling of the verses and the aiming moral of the texts, much more complex than it appears at first reading, determined the success of this work apart and the Fables of La Fontaine are still considered one of the greatest masterpieces of literature French.
16 other products in the same category: