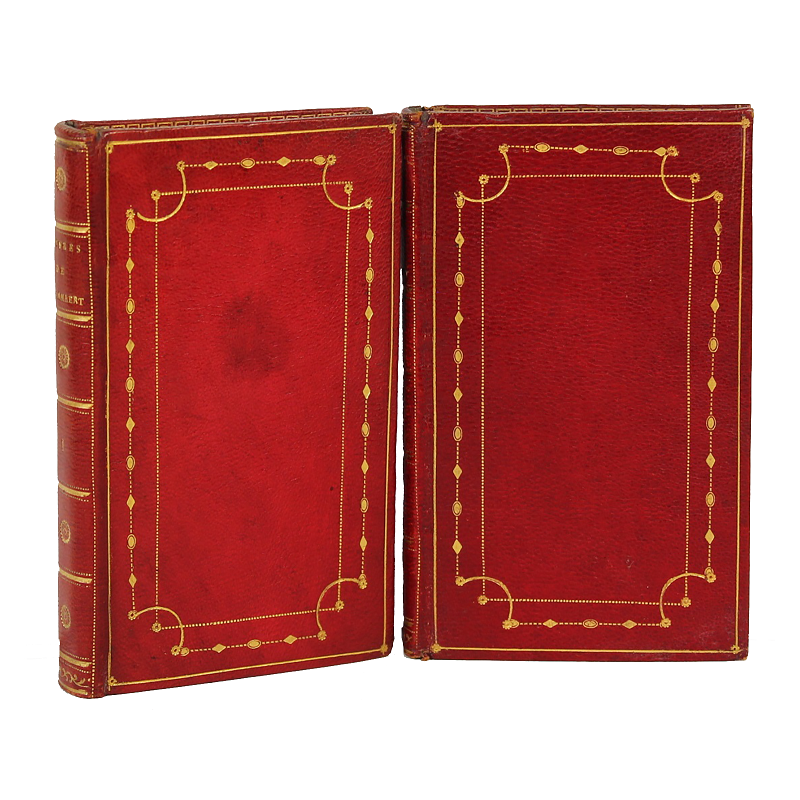  
Works of St Lambert - The Seasons, poem by St Lambert - 1795
Works of St Lambert - The Seasons, poem by St Lambert 
In Paris, Didot, 1795. 2 volumes in-12 (vol.1: (XXX), 231pp; vol.2: 240pp)
Red morocco, golden fillets on the dishes, golden slices. Some traces of freckles. Good general condition. Copy from the library of Ludovic Froissart, with ex-libris.
SAINT-LAMBERT JEAN-FRANÇOIS DE (1716-1803)
Born in Nancy of a noble family but poor and without illustration, Saint-Lambert will not take the title of marquis until the time of his literary success. He was brought up by the Jesuits, whose somewhat worldly tolerance he defined very well: Apostles full of urbanity, With the touching charms of the breviary You carefully intertwine And Virgil and Voltaire.
After his studies, he lived at the court of Lunéville where he knew Voltaire and the Marquise du Châtelet. But this connection ends tragically, because Mme du Châtelet expires giving birth to the child of Saint-Lambert (1749). Voltaire, cruelly affected, even constitutes himself the protector of Saint-Lambert. The latter then goes to Paris, he sees Mme d'Houdetot, sister-in-law of Mme d'Épinay, and contracts with her an affair which will last until her death. After a brief military career, he devoted himself exclusively to letters. He is linked to the encyclopedists, frequents Diderot, Duclos, d'Holbach, Grimm, Mme d'Épinay. Rousseau speaks of him in the Confessions when he recounts (book IX) how he fell in love with Mme d'Houdetot, Saint-Lambert's lover, and pays homage to the latter's attitude: "For Saint -Lambert, he behaved like an honest and judicious man. "
In 1764, he wrote two charming poems, Le Matin and Le Soir, but it was above all his poem Les Saisons (1769) that won him success and entered the Académie française (1770). This work, imitated from an English poem by Thomson (1700-1748), aroused great enthusiasm. It is a descriptive and didactic poem. Voltaire wrote about the Seasons (1773): "Be convinced that it is the only work of our century which will pass to posterity. Grimm and Diderot have more mixed opinions. Grimm criticizes this philosophical and scientific poetry for its aridity. During the Revolution, Saint-Lambert retired to Eaubonne, with Mme d'Houdetot. Marmontel had nicknamed him: "the Sage d'Eaubonne"
Dimensions per volume : 14.0 cm high
                                      8.5 cm wide
                                      1.5 cm thick
16 other products in the same category: