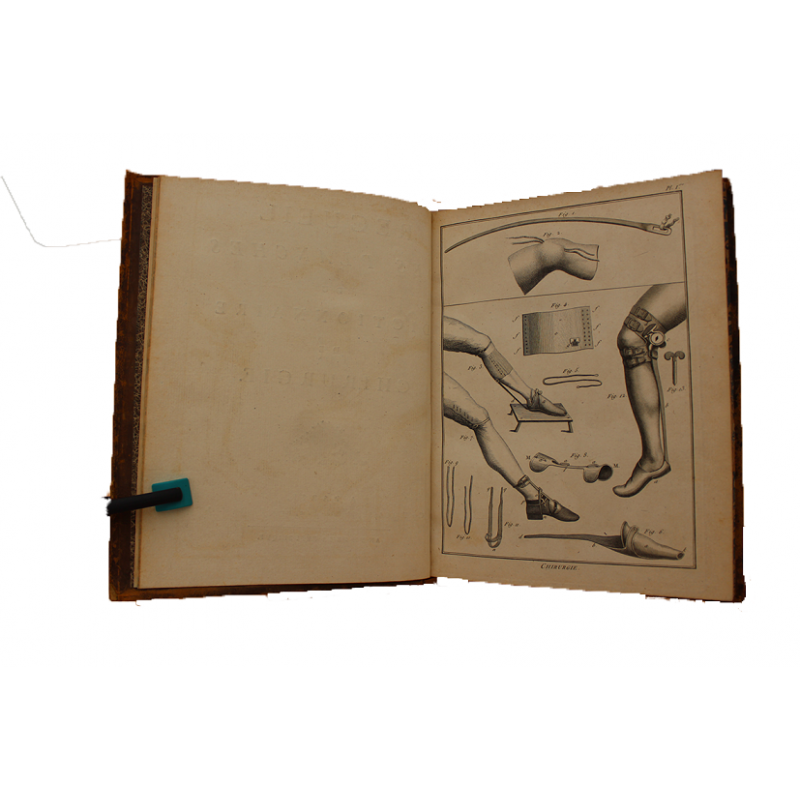  
Surgery - Encyclopedia Panckoucke - (1790 -1799)
The Methodical Encyclopedia - Part Surgery: 2 volumes in 4 of text and 1 volume of boards in 4 - Complet
3 volumes in 4 connected period. Smooth back. Golden filet and roulette on the dishes.
Splitting on jaws, used caps on 2 volumes of text. Friction.
Rare: usually, these volumes are bound in cardboard
The text volumes are composed as follows:
Volume I - 1790
Preliminary speech (pages 1 to 44)
ABAPTISTON in KYSTOTOMY (pages 1 to 712)
Volume II - 1792
LACERATION in ZIGOMA (pages 1 to 498)
Contents throughout the book (pages 499 to 566)
Explanation of the planks that relate to the surgical material, being part of the Encyclopedia in order of materials, by the Cit. Little-Radell & Allan [1 page title]
Preliminary Speech, by G. F. Allan (pages 3 to 8)
Explanation of the planks that relate to the surgical material (pages 9 to 144)
Errata of the explanation of the boards (page 144)
Volume of Boards - 1799
Planks [from I to CXIII: no XIII, a XV bis, no LII, a simple numbered CIII / CIV]
The Encyclopédie méthodique, known as the "Panckoucke Encyclopaedia", is a monumental encyclopedia based on the Encyclopedia or Dictionaries of Sciences, Arts and Crafts of Diderot and Alembert with the objective of improving and completing it.
 Unlike the latter, it is divided into subjects spread over 40 scientific dictionaries. The aim was to remedy the excessive fractionation of Diderot's work, which obliged him to read a hundred articles in order to have a sufficient idea of ​​a subject. We wanted to try if, by proceeding differently, the analysis and the synthesis would not lead to a better conciliation.
It was launched by subscriptions in 1782 by the bookseller Charles-Joseph Panckoucke, established in Lille then in Paris, where he had managed to create the first journalistic empire of the time. The bookseller and publisher, Clement Plomteux, established at Liege, seconded him between 1782 and 1789.
The publication lasted for half a century, and ended in 1832. After the death of Charles-Joseph Panckoucke in 1798, the publication was carried out by his son-in-law and partner, Henri Agasse (1752-1813), then by his Antoinette-Pauline Agasse daughter, widow of the latter.
This enterprise, which was attended by several hundred authors, resulted in a set of 206 volumes (159 of text on two columns and 47 of plates), comprising more than 125,000 pages and nearly 4,500 engravings,
The complete title is: The Methodical Encyclopedia or by order of subjects by a society of literary people, scholars and artists; preceded by a universal Vocabulary, serving as a table for the whole work, adorned with portraits of MM. Diderot and d'Alembert, first editors of the Encyclopedia.
16 other products in the same category: