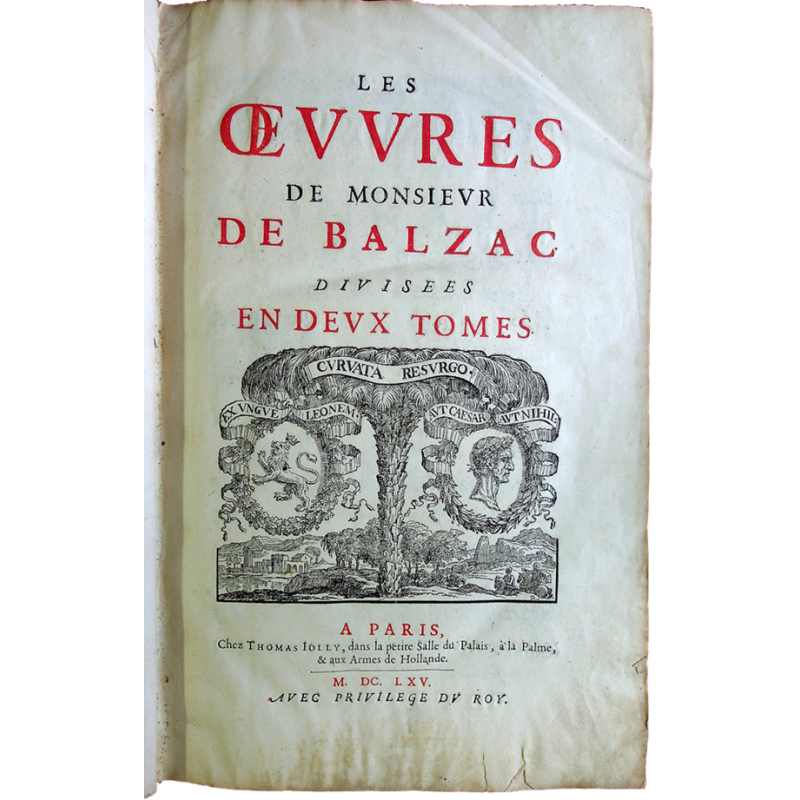  
Les Oeuvres de Monsieur de BALZAC - 1634 - 2 vol. in folio
No tax
A Paris chez Thomas Jolly – 1634
2 volumes In folio - Period binding, spine with 6 raised bands, decorated with gilded boxes. Title and volume in gold letters, marbled edge. Rubbed bindings. Paper slightly and evenly browned in places. Portrait of the author on the frontispiece of the 1st volume engraved by G. Vallet. Title in red and black, large vignette engraved on wood with titles, banners, and initials.
Volume I is entirely devoted to letters, including some addressed to Balzac.
Volume II contains the main works (The Prince, Aristippus, Christian Socrates), elements of the Miscellaneous Works and the Interviews divided into three sections - Christian and Moral Dissertations, Political Dissertations and Critical Dissertations - as well as, among others, Le Barbon. "This is the only edition which has attempted to bring together all of Balzac's work" (Beugnot). The copies of this edition were printed at the same time under the names of Louis Billaine or Thomas Jolly ""in the small room of the Palace, with the Palme and the arms of Hollande""
BEAUTIFUL EDITION, given by Valentin Conrart and preceded by a learned dissertation by Father Cassaigne. This is the first edition and the only old one in folio format of the Complete Works of GUEZ DE BALZAC (1597-1654), nicknamed the "restorer of the French language" by Malherbe
From the library of Mr Le Comte de Caumia-Bailleux in his castle of Andrain.
16 other products in the same category: