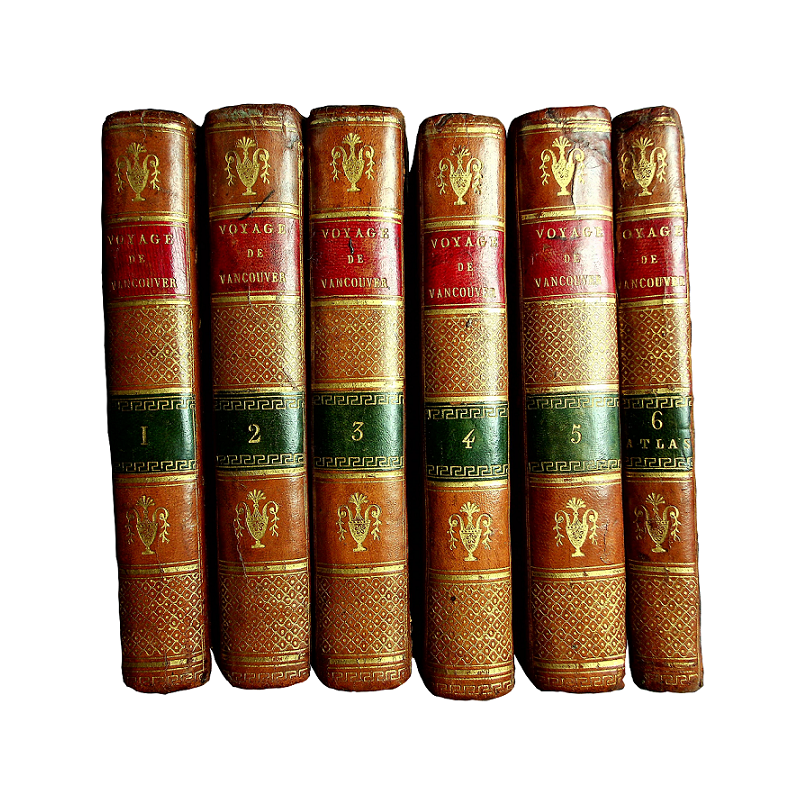  
Voyage de découvertes à l'Océan Pacifique du Nord - Vancouveur - An X (1802)
Voyage de découvertes à l'Océan Pacifique du Nord, et autour du monde, entrepris par ordre de sa Majesté britannique ; exécuté pendant les années 1790, 1791, 1792, 1793, 1794 et 1795.
Paris, Didot le Jeune, An X (1802).
5 volumes of text and 1 volume of In-8 atlases uniformly bound in rooted basane, ornate smooth backs, golden roulette framing the dishes, gilded net on the cups.
Second French edition, published 2 years after the original. It is illustrated with 17 out-of-text views as well as 9 maps including 8 foldouts.
George Vancouver, a British navigator and naval officer in the Royal Navy, is best known for his exploration of the Pacific coast along what is now the Canadian province of British Columbia and the U.S. states of Oregon, Washington and Alaska. He also explored the Hawaiian archipelago and the south coast of Australia.
Beautiful copy in uniform binding of the time. Small gaps in paper in the margin of some folios of volume 5.
16 other products in the same category: