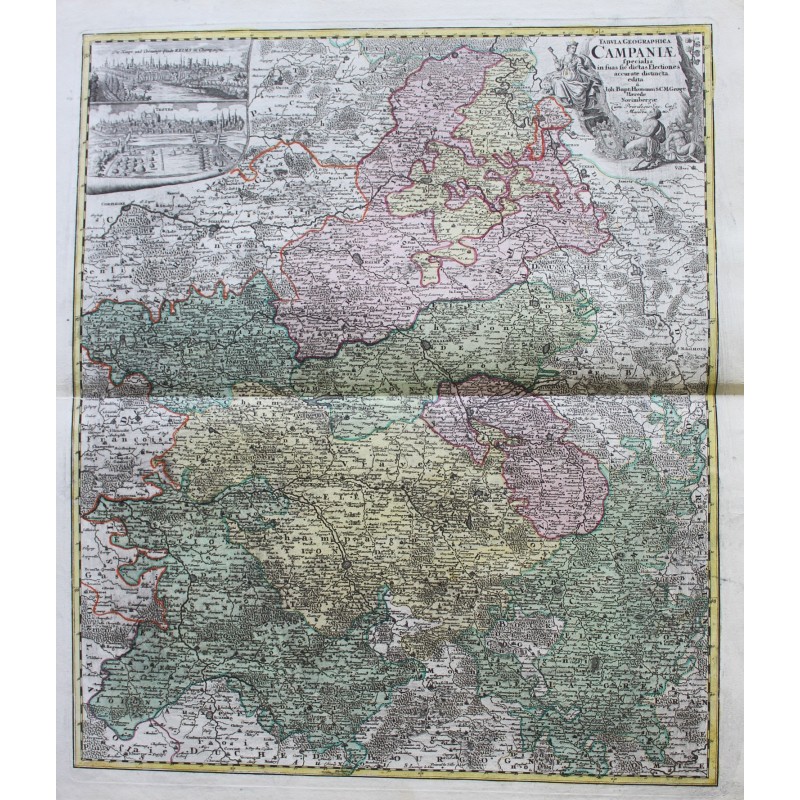  
Map of Tabula Geographica Campaniae (Champagne) - by J.B Homann
No tax
Map of Tabula Geographica Campaniae (Champagne) - original map in 18th century color
Homann was born in 1664 in Oberkammlach, near Kammlach, in the Bavarian electorate. In 1687 he began a career as a notary in Nuremberg. He quickly began producing prints and maps: in 1702 he founded his own publishing house.
His maps make him one of the most renowned German cartographers. In 1715, he was appointed Imperial Geographer by the Emperor Charles VI. In the same year he was elected to the Prussian Royal Academy of Sciences in Berlin. Imperial privileges on impressions (privilegia impressoria) offered protection to printers, copper engravers, cartographers and publishers.
In 1716, Homann published his masterpiece, Grosser Atlas über die ganze Welt ("Grand atlas of the world"). Several maps were made with the collaboration of the engraver Christoph Weigel the Elder.
Size of the card: 54 cm x 62 cm
16 other products in the same category: