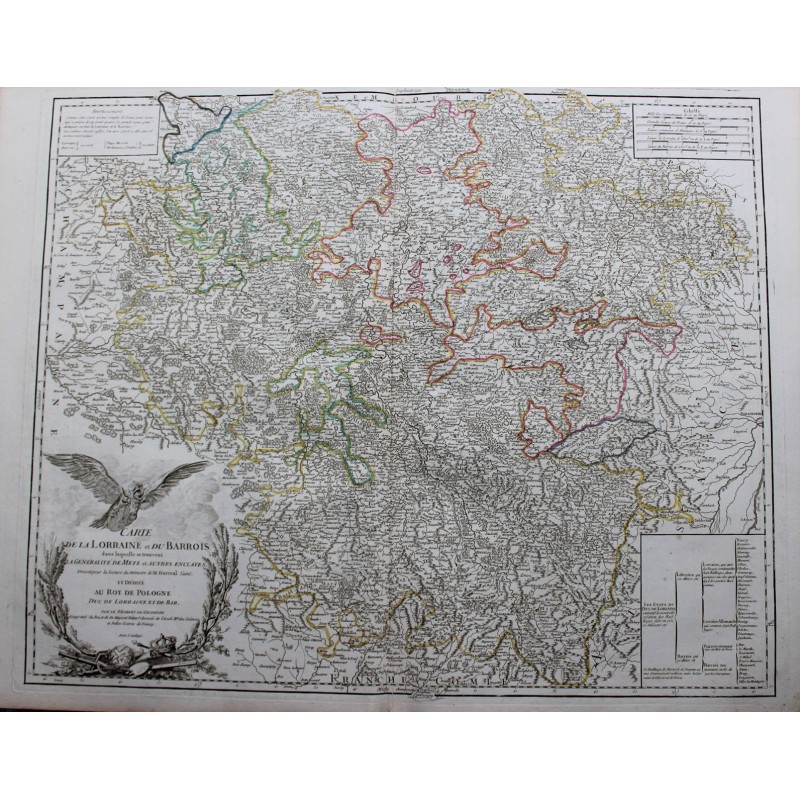  
Map of Lorraine and Barrois - 1755 - by Robert De VAUGONDY
No tax
Original map in 18th century color
Coming from a family of cartographers, descendant of the famous Nicolas Sanson and ordinary geographer of the king, Gilles Robert de Vaugondy makes himself known by his maps of the French provinces.
  He published an Essay on the History of Geography (1755) from which he excluded the physical geography "too systematic". After a Small Atlas (1748), he draws a universal Atlas (1758), a portable Atlas (1762).
His Atlas of the revolutions of the globe remains unpublished. His warnings and prefaces, his book reviews reveal a Cartesian mind and solid knowledge.
Very early, he associates with his works his son Didier who publishes, since 1742, the methodical tables of Nicolas Sanson, two Globes, one terrestrial, the other celestial (1752).
He is credited with a map of Poland, a map test of the Arctic Polar Sea. Father and son collaborated in the Encyclopedia for the articles "Geography" (1757), "Fuseau", "Globe".
Size of the card: 51,5 cm x 65 cm
16 other products in the same category: