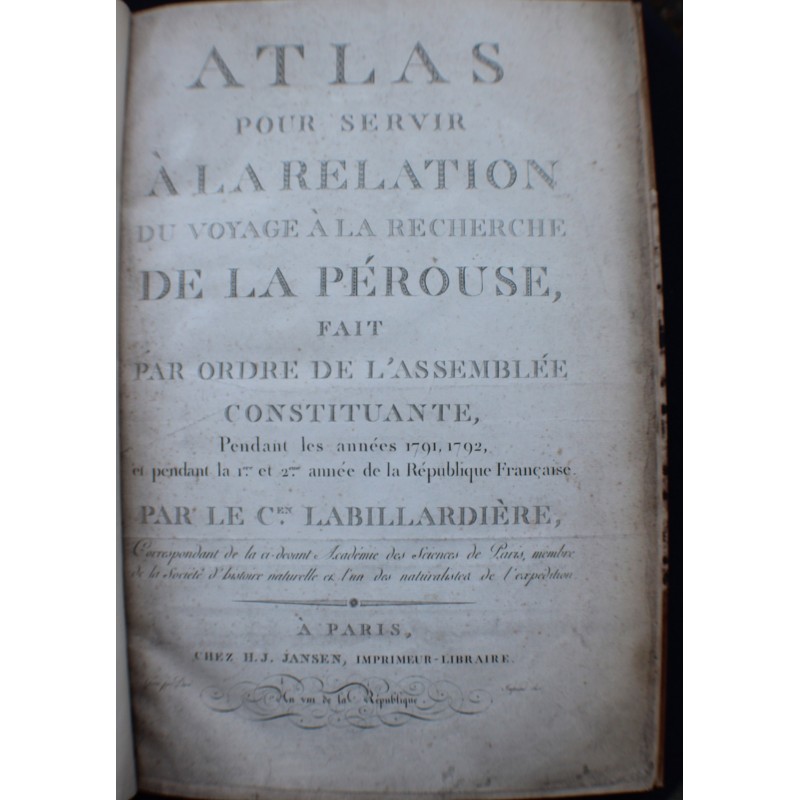  
Atlas pour servir à la relation du voyage à la recherche de La Pérouse..
No tax
...fait par ordre de l'assemblée constituante pendant les années 1791, 1792 et pendant la 1ère et 2ème année de la République Française
By C. Labillardière - In Paris At H. J. Jansen., Year VIII (1799-1800) of the Republic
Posterior rigid cover. 1st edition.
Atlas Only without the two volumes of text of 1800.
Engraved on the whole surface with title, folding map of the Indian Ocean and 42 boards (without the portrait). Scattered epidermis.
Dimensions of the Atlas: folio [51cm x 36cm].
RARE Atlas of the first edition of the published official report of the research of La Pérouse, by the naturalist of the Entrecasteaux expedition.
Three years later, without news of the fate of La Perouse's ships, a new expedition was launched in 1791; its dual mission was to research La Perouse but also to learn about the natural sciences and commerce in the region. Rear-Admiral Bruny D'Entrecasteaux was commanded by the expedition of two ships weighing about five hundred tons [Search and Hope], passing through the Cape of Good Hope in Tasmania, extensive investigations into his New Caledonia, the Solomon Islands, the Admiralty Islands, Tonga, New Britain and other groups were visited, but no trace of the missing browser was found. The expedition brought several important contributions to the knowledge of geography and the research of naturalists on productions of the visited countries had a particular value "(Ferguson). The atlas contains exceptional views of the official Piron artist on the regions. Included is a famous engraving of a black swan, the first great representation of the exotic Australian bird. Fourteen botanical plaques, all produced by or produced under the direction of Redouté, the most famous of all botanical artists, include two of the Eucalypts and two of the Banksias. Labillardière, botanist of the voyage, remains an important figure of the first Australian science as author of the first detailed monograph on Australian botany.
Labillardière's story is one of the rare stories of Australian exploration dating back to the 18th century and the only major French story of the continent dating from the beginning of the period of settlement to have been published during the same century. The story based on the papers of the commander of Entrecasteaux did not appear until 1808 (that is to say after the restoration of the monarchy). The first edition was published with the text in two forms: quarto or octavo.
16 other products in the same category: